I have been working on all sorts of little projects to complete our living room makeover. One of the most annoying things in our living room is the air vent. It is rather big and when the heat or ac turns on, we grab for the remote, "Turn up the TV I can't hear it." I wish that the vent would have been placed on the other side of the wall going into the office, but the builders only switched it over in the new models for this year. Boo Hoo! So until the day we move it into the office, I came up with a plan.
The obvious choice is to cover it, but the air still has to circulate, so I can't cover it completely.
Since I am really trying to have a relaxed beach house feel, what better way to display my throw blankets than on a ladder.
I have this thing about finding items to decorate with that have a past or at least some sort of an interesting story. So, I went to one of my new favorite places,
Everything Vintage, Co
., and how lucky am I that their store is about 5 minutes from my house! Yippy!
The couple that owns the store couldn't be any sweeter! They were wonderful with helping me pick out just the right ladder. I even walked out of there with a couple of tin letters for a small art project that I am going to create and I will be heading back with in the next week or so to find some great pieces of barn wood for the shelves we want to build in our breakfast room. They are actually knocking down an old barn in our area, so the barn wood is that much more significant to me. If you live in the area of Toano, VA you need to stop in and see them!
Well, without further adieu, (I spelled it adew, thank goodness for the spell checker) :-) here is the before of the ladder.
See what I mean about the air vent,
Ewww
! The ladder was just a bit too tall for the space, so the hubs cut just a bit off the bottom for me.
We also banged up the bottom where we cut it so it didn't have such a clean edge!
Then I got to work sanding that
sucker
down. I wanted to make sure that none of the throw blankets would catch on the rungs of the ladder.
After the ladder was smooth enough, I mixed equal parts water and white paint and then I brushed it on the ladder, working in small sections and wiping it off with a rag. That way it would leave behind some of the white, but you would still see the wood underneath.
Here is my equal parts water and paint. Yummy yum! I used the sponge to mix it up, but I used a brush to paint it on the ladder. Then just get yourself a little raggy and wipe, wipe, wipe!
And here is the after...
Insert Christmas Vacation "Drum Roll Please"
I looooovee IT!
Although the blanket doesn't cover completely as of yet, at least it takes the focus off of the big square vent. (Doesn't that statement sound like Jim Carry in Liar Liar, when the assistant with the medusa lookin' hair says, "What do you think of my new dress" and Jim Carrey says "Whatever takes the focus of Your Hair." I think I feel the same about this AIR VENT!
I purchased both throw blankets at Marshalls and I want to add one more that has some turquoise or chartreuse in it.
If you are wonderin' about that big open space, I will be working on an abstract painting to go above the doggy bed. Hopefully we can get it finished over the next few days so that we can do the Family Room Reveal next week.
Not too much more to do to finish the family room makeover. We are heading out to Target today to get the longer white grommet curtains. I think I will just go with that for awhile, since I made two attempts at purchasing some fabric to attach to the bottom of the shorter curtains, and I struck out with both :( Way too green and way to
Leprauchany
.
Leprauchany
, that's a real word, right? We'll go with it.
This post is linked up to the weekly parties at: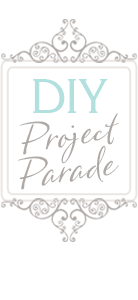 Come on over and visit the lovely ladies throwing the parties and see what other posts have been linked up!!!!