So, I came home from work this evening, made some enchiladas, and sat down read a few blogs. When I saw this, on one of my favorite blogs...
Hey, has your wagon been saggin? Helen spruced hers up by first obviously repairing whatever was wrong with it, (I'm no wagon specialist, but I suspect the problem had something to do with those unattached front wheels), then she painted it pink! If Radio Flyer doesn't already sell pink wagons, I bet they will now! See it on her blog
A Brit of Happiness
.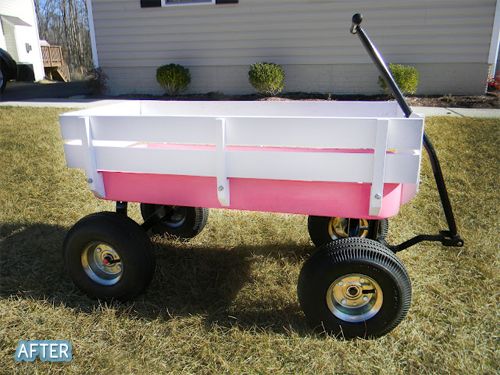 So, you know what I did, I yelled out to the kids, "
I've been featured on Better After
." Here's the thing about kids. They have no idea what that means. So, I explained... and then we cheered. The hubs came in from a long day at work and the first thing I said was, "
I've been featured on Better After
." A blank look on his face and then I show him the post. Ahh, the whole family now understands the true meaning of "I've been featured." Don't worry, I got around to asking him how his day was ;)
Let's just say this has truly made my week
! I have been following Lindsey's blog for a long while now and I always check in to see the amazing before and after makeovers that she posts. It's not just the before and afters that make me giddy. It's also the unique titles she comes up with and the humorous ways she describes various posts on her blog. You can visit Lindsey at
www.betterafter.blogspot.com
and see all of her amazing before and after posts.